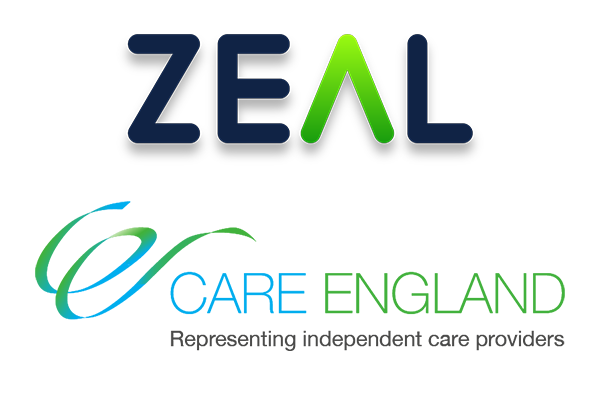 Zeal are thrilled to have partnered
with Care England! 

As the leading representative body for small, medium and large care providers in England, Care England is a registered charity working to benefit the sector. The organisation is the largest and most diverse advocate for independent providers of adult social care in England who service older people and those with long term conditions, learning disabilities or mental health problems.
Care England speaks with a single, unified voice for both members and the whole care sector, providing practical advice on the successful day to day running of care services and providing real cost savings for its members. Their aim is to create an environment in which care providers can continue to deliver and develop the high-quality care that communities require and deserve.
Zeal are working with Care England to help members of all sizes, from single nursing homes to national care providers, take advantage of a specialist Government tax relief available on the 'embedded fixtures' in and under their properties. This includes qualifying items like electric, heating and water systems, pipework, kitchens, bathrooms, alarms and more. 
For more information can be found below:
Our team of Chartered Tax Advisors and Qualified Property Surveyors help owners in the care industry unlock hidden tax savings which most have no idea they are entitled to, and ensure they only pay the right amount of tax. Zeal can also offer specialist tax advice and compliance assistance.
Between 20%-40% of the price paid to purchase, build or renovate the property is typically identified in unclaimed allowances, resulting in an average of £35,000 in tax savings for care and nursing home owners. For many owners, this also generates a cash rebate from HMRC for tax they had no idea they had overpaid. 
Although a part of statutory UK tax legislation, this is a specialist tax relief governed by complex regulations and requires uncovering the full value of qualifying fixtures requires specific tax knowledge coupled with surveying and valuation skills. For this reason, it is not something an accountant usually claims unless they use an expert like Zeal
To find out if your care property would qualify, arrange a free consultation with one of our specialists today!
---